beautyshop.com.hk

157
OXYGEN ANTI-AGEING TREATMENT AMPOULE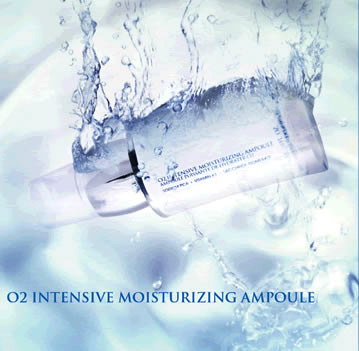 PRESENTATION :O/W fluid emulsion, light blue, fragranced with photo-reflecting agent.
DIRECTIONS FOR USE:Every morning and/or evening, smooth over thoroughly cleansed and toned skin of face and neck and follow with the day or night cream.
ACTIVE INGREDIENTS :


The Osmotic Active (INCI name : CAPRYLYL GLYCOL), characterised by its incomparable capacity for binding water, has physical anti-microbial properties which make it possible to decrease the concentration of classical preservatives in order to improve skin tolerance of formulas. Also, it has an anti-microbial activity towards Propionibacterium acnes, the germ specific to acne. It has exceptional moisturising properties and distinct, immediate and persistent calming properties.



The UVB filter (INCI name : ETHYLHEXYL METHOXYCINNAMATE) helps protect against sun radiation and delays erythema.



The UVA Filter (INCI name : BUTYL METHOXYDIBENZOYLMETHANE) helps protect the skin against sun radiation and delay premature skin ageing due to noxious sun rays.



The Humectant Complex (INCI name : SODIUM PCA and BETAINE and SORBITOL and GLYCINE and ALANINE and PROLINE and SERINE and THREONINE and ARGININE and LYSINE and GLUTAMIC ACID) is composed of sodium PCA, betaine, sorbitol, glycine, alanine, proline, serine, threonine, arginine, lysine and glutamic acid. It is s a unique combination of natural moisturisers and amino acids which mimic the skin's own natural moisturising capability. It provides excellent revitalising properties to skin care formulations.



Saccharide Isomerate (INCI name : SACCHARIDE ISOMERATE) is a soothing agent. It possesses pronounced water retaining properties, thus reducing dryness, providing effective hydration and making rough skin softer. It is chemically bound to keratin (does not wash out) and, thus, appreciably and permanently improves the water retention of keratin.



The regenerative plant active (INCI name : HYDROLYZED SOY PROTEIN) boosts the cell metabolism by improving tissue-oxygenation.



The Grape seed extract (INCI name : VITIS VINIFERA (GRAPE) SEED EXTRACT) has a good antioxidant effect which originates from the high polyphenol content of 85% minimum. Polyphenols are predestined for use in anti-ageing treatments as they inhibit oxidation processes in the skin cells caused by light and oxygen and protect against substances which damage cells.



This specially studied fragrance soothes the spirit while pleasing the mind. The fragrance is based on the essential oils of sweet orange, bitter orange, coriander and ylang-ylang, which are well-known for their calming action.



Vitamin K1 encapsulated in liposomes (INCI name : PHYTONADIONE and PHOSPHOLIPIDS and CARRAGEENANS (CHONDRUS CRISPUS)) is a stabilised form of the vitamin. Vitamin K1 improves microcirculation and strengthens blood vessels. It helps fight vascular-related cosmetic problems such as dark under-eye circles, post-operative bruising and erythema, rosacea and tired or swollen legs due to poor blood flow.



The photo-reflecting agent confers radiance to the complexion by reflecting light.