beautyshop.com.hk

254
O2 SKIN RENEW MOISTURIZING CREAM MASK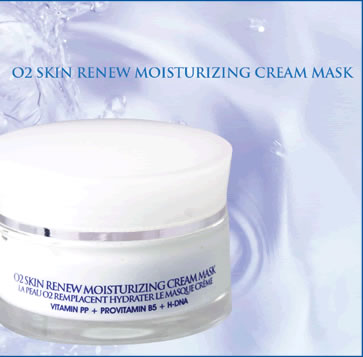 PRESENTATION : O/W cream, slightly blue, fragranced, with photoreflecting agent.
DIRECTIONS FOR USE: Apply a generous layer once or twice a week on perfectly cleansed skin of face and neck. Let set for 15-20 minutes. Massage in ascendant circles until well penetrated or gently remove with a soft tissue, tone, pat dry and follow with day or night care.
ACTIVE INGREDIENTS:


The regenerative plant active (INCI name : HYDROLYZED SOY PROTEIN) boosts the cell metabolism by improving tissue-oxygenation.



The Biomimetic Peeling for Rejuvenation (INCI name : HEXANOYL DIPEPTIDE-3 NORLEUCINE ACETATE and LECITHIN) is a liposomal preparation of a tripeptide which activates skin cell regeneration. This peptide stimulates the natural desquamation process of the skin, leading to a gentle peeling. Consequently, the skin tone appears brighter, smoother and more even and fine lines and pigmentation are reduced. The skin is rejuvenated and looks younger.



The Grape seed extract (INCI name : VITIS VINIFERA (GRAPE) SEED EXTRACT) has a good antioxidant effect which originates from the high polyphenol content of 85% minimum. Polyphenols are predestined for use in anti-ageing treatments as they inhibit oxidation processes in the skin cells caused by light and oxygen and protect against substances which damage cells.



Honey extract (Nom INCI : MEL / HONEY EXTRACT) is a hydrating active, which has soothing and nourishing properties mainly attributed to monosaccharide and oside which it contains.



Vitamin K1 encapsulated in liposomes (INCI name : PHYTONADIONE and PHOSPHOLIPIDS and CARRAGEENANS (CHONDRUS CRISPUS)) is a stabilised form of the vitamin. Vitamin K1 improves microcirculation and strengthens blood vessels. It helps fight vascular-related cosmetic problems such as dark under-eye circles, post-operative bruising and erythema, rosacea and tired or swollen legs due to poor blood flowVitamin PP or Nicotinamide (INCI name : NIACINAMIDE) is cited to increase the resistance to collagen destruction and prevents the formation of diffused redness.



Panthenol or Provitamin B5 (INCI name : PANTHENOL) has anti-inflammatory, protecting and moisturising actions. It helps restore and maintain natural skin moisture, leaving the skin feeling velvety and smooth.



Vitamin PP or Nicotinamide (INCI name : NIACINAMIDE) is cited to increase the resistance to collagen destruction and prevents the formation of diffused redness.



Caprylyl Glycol (INCI name : CAPRYLYL GLYCOL) is an "osmotic active" which has physical anti-microbial properties related to its capacity for osmotic absorption. (It also has anti-microbial properties towards Propioni bacterium acnes, the germ specific to acne). It has exceptional moisturising virtues as well as distinct, immediate and persistent calming effects.



This specially studied fragrance gives tonus to the spirit while pleasing the mind. The fragrance is based on the essential oils of lemon and sandalwood, which are well-known for their tonifying action.



The photo-reflecting agent confers radiance to the complexion by reflecting light.